Product introduction:
Trough feeder, also known as reciprocating or swing feeder, is a feeding equipment used earlier for ore storage tank discharge. There are many types, and the common point of their structures is that they are equipped with adjusting rams that can control the height of the material layer; The lower part of the conveying chute is a feed plate moving back and forth. The difference is that the angle of the feed plate is different. Generally, it is a horizontal type with a downward inclination of 5 degrees along the discharge direction, a greater inclination angle (less than the static stacking angle of the material) and an angle of zero. The actions of the feed plate include back and forth reciprocating movement, shaking type and swing type. All transmission mechanisms are crank rotary type.
Product structure:
(attached figure)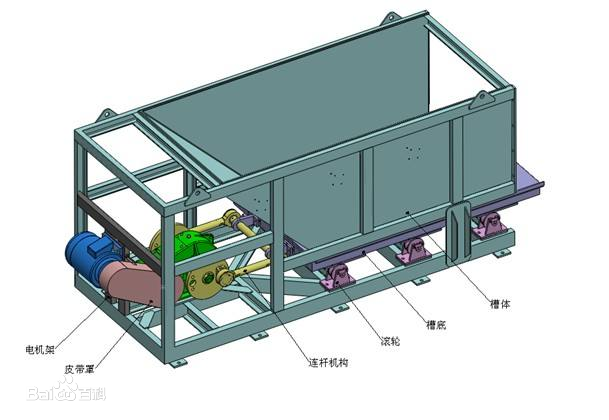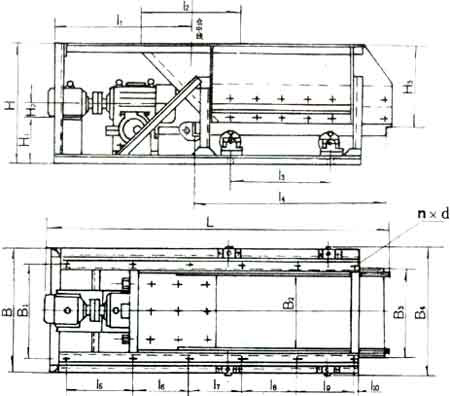 Product purpose:
The trough feeder can transport massive materials from the storage bin to the receiving device. It is widely used in metallurgy, mining, chemical industry, construction, beneficiation, coal and other departments as one-stage crushing feeding of coarse-grained materials (raw ore). It is suitable for short-distance transportation of metal and non-metallic materials, but it is not suitable for conveying concentrate powder and other powdery materials.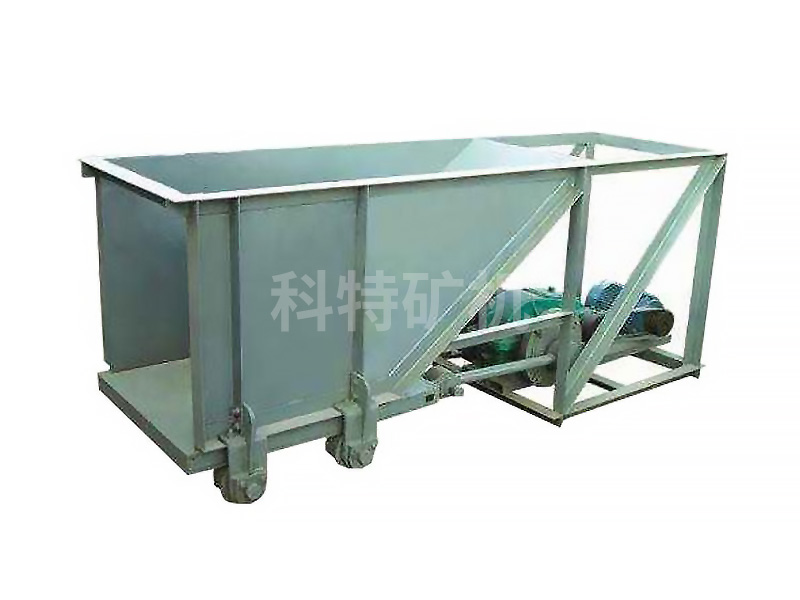 working principle:
The machine is mainly composed of the following main parts: motor, reducer, coupling, eccentric mechanism, leakage plate, slot frame, roller, etc. This kind of equipment is generally installed at the lower part of the discharge port of the silo, the ore falls into the leakage plate at the bottom of the tank, the bottom leakage plate is arranged on the roller, and the leakage plate is connected with the reducer of double output shafts through the eccentric mechanism, and then connected with the motor through the coupling. During operation, the reducer is driven by the motor through the coupling, and the eccentric disc and the leakage disc between the groove frame bottom and the roller make reciprocating linear motion together, so as to complete uniform feeding.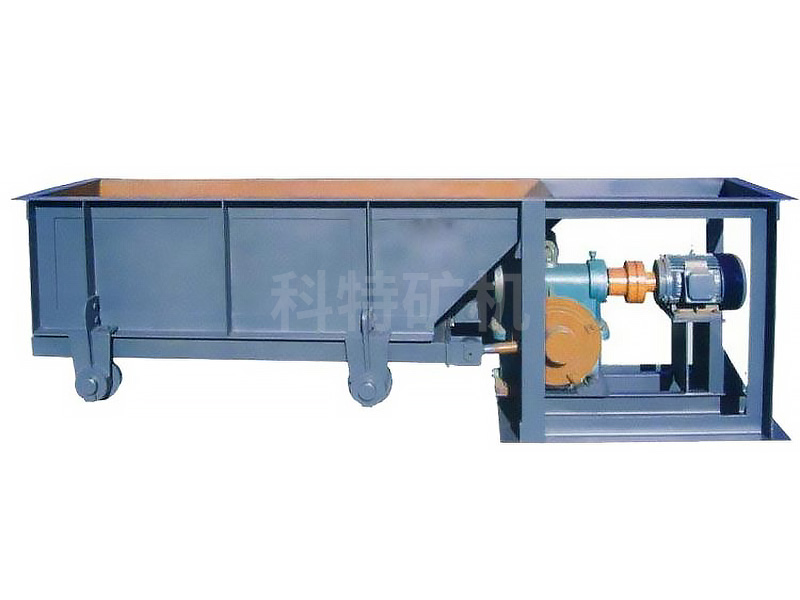 Operating procedures:
1. Check whether the V-belt is damaged.
2. Whether the lubricating oil of the reduction gearbox of the trough feeder reaches the oil mark.
3. Check whether the fastening bolts of each part are loose.
4. Whether the trough feeder devices such as belt cover are firm.
5. Whether the sliding plate and supporting roller move and skew.
6. Whether the pointer of ammeter is at zero position.
7. Whether the pins of each part of the trough feeder are loose.
8. Check whether the refueling (grease) points of each part of the trough feeder are short of oil.
9. Whether the tank body of the trough feeder has grinding leakage or other damage.