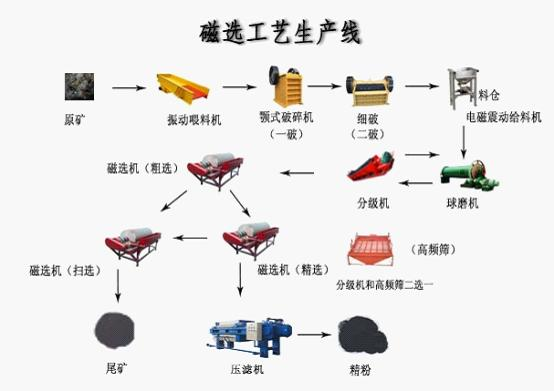 1、 Brief introduction of magnetite beneficiation equipment
Knowledge of magnetite beneficiation equipment and progress of iron ore beneficiation technology. Limonite (including magnet limonite mixed ore) is an important iron ore resource in China. In the early 1960s, the crusher of shale shaker sand production line mainly used roasting magnetic separation and single flotation processes to treat iron ore in China, with poor production technical indexes. After continuous research and transformation, the indicators have improved. In recent years, the successful development and application of some new processes, new equipment and new reagents have made a major breakthrough in the technology of iron ore beneficiation equipment.
2、 Magnetite beneficiation process
The latest magnetite beneficiation equipment process specifically relates to a high phosphorus iron ore beneficiation equipment process including ore crushing and screening, grinding and classification, dephosphorization agent treatment, float beneficiation and ore powder classification. The purpose of dephosphorization and silicon removal is achieved through two-stage flotation, and then the spiral chute and shaking table are combined to carry out rough beneficiation, cleaning and scavenging of ore powder, so as to improve iron grade and reduce element phosphorus Silicon content to obtain the iron ore in the furnace that meets the smelting process requirements. After flotation, the three-step flotation tailings are added to the magnetic separator for magnetic separation. Through the above process, two products of boron concentrate and iron concentrate are obtained. The process of the new iron ore dressing equipment is characterized in that the high phosphorus hematite ore is successively broken, screened, grinded and graded, and then applied with dephosphorization agent.
The other is red ore or mixed ore with fine embedded particle size (i.e. red ore with weak magnetism and magnetite with strong magnetism). The iron ore beneficiation equipment belongs to the technical field of beneficiation process. After crushing and grinding to separate iron mineral monomers, fine-grained high-grade concentrate is obtained through gravity separation or magnetic gravity separation, which is called hematite fine-grained gravity separation.
Although the process technology and concentrate quality of some magnetite beneficiation equipment in China have reached the international advanced level, due to the characteristics of poor, miscellaneous, fine and many kinds of iron ore in China, the new requirements for iron concentrate in the iron and steel industry pose new challenges to China's Beneficiation workers. Therefore, China's iron ore beneficiation equipment technology still has a deeper development. While popularizing the application of high-quality iron concentrate beneficiation technology represented by magnetic separation reverse flotation and high-efficiency magnetic separation (magnetic gravity separation), the beneficiation process should be as efficient and simple as possible. Therefore, the research on beneficiation equipment and beneficiation process should be strengthened, Achieve the best results with the most appropriate process as far as possible. Reverse flotation process has important application prospects for improving metal recovery, and the research on reverse flotation reagent should be actively strengthened.
3、 Supporting device of magnetite beneficiation equipment
Production scale 1000 tons / day 500 tons / day 200 tons / day
Coarse broken PE600x900 PE 400x600 PE 400x600
Fine broken PE250x1200 PE250x1000 PE250x750
Ball mill MQG2.2x7 MQG1.83x7 MQG1.5x5.7
classifier FJJ1.2x8.5 FJJ0.75x5.5 FJJ0.75x5.5
Magnetic separator 1.2x2.4 0.9x1.8 7518 two sets seven thousand five hundred and eighteen
Conveyor 0.65x154 0.5x10m 4 sets 0.5x10m 2 sets
Magnetite is a kind of iron oxide ore, mainly composed of Fe3O4. It is a complex of Fe2O3 and FeO. It is black gray, with a specific gravity of about 5.15. It contains 72.4% Fe0 and 27.6% O. it is magnetic.
The mined ore is initially crushed by jaw crusher. After crushing to reasonable fineness, it is evenly sent to ball mill through elevator and vibrating feeder, and the ore is crushed and ground by ball mill. The fine ore ground by the ball mill enters the next process: classification. The spiral classifier cleans and classifies the ore mixture based on the principle that the specific gravity of solid particles is different and the precipitation speed in liquid is different. Mineral particles are sent to the flotation machine, and different drugs are added according to different mineral characteristics to separate the required minerals from other substances.