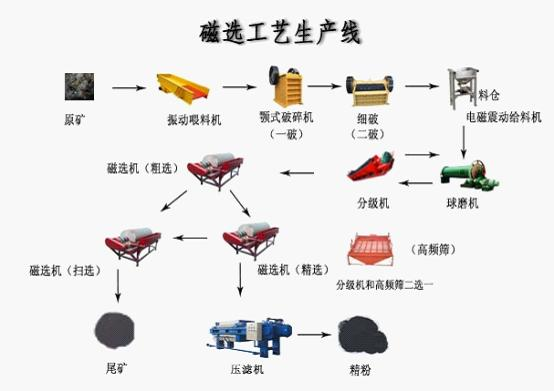 Limonite is an ore containing iron hydroxide. It is the general name of goethite hfeo2 and lepidolite FeO (OH) ores with different structures. It is earthy yellow or brown, contains about 62% Fe, 27% O and 11% H2O, and the specific gravity is about 3.6 ~ 4.0.
Magnetic separation process is generally used for limonite beneficiation, and the general steps of limonite beneficiation process are as follows:
A. The limonite powder with particle size less than 10mm and moisture less than 15% is mixed with pulverized coal with weight dosage of 0-8% into the rotary kiln; Limonite fines are dried, magnetized, arsenic removed and desulfurized in the same rotary kiln, and the rotating speed of the rotary kiln is 0.8-1.5 rpm;
The temperature in the roasting area of the rotary kiln is 800? 50 ℃, the temperature in the drying area is 350? 0℃;
B. The baking water treated in step a is cooled; After cooling, it is graded by the classifier, the returned sand is sorted by magnetic pulley, and the overflow is sent to the wet weak magnetic separator for magnetic separation by concentration pump. The magnetic part is the final product iron concentrate. The limonite powder with low iron grade and high arsenic and sulfur impurities is blended with coal, dried, roasted, magnetized and removed from arsenic and sulfur impurities, and completed in the same kiln. The process is simplified. The roasted ore is subjected to magnetic separation after quenching and classification, and the magnetite concentrate with high iron grade, low arsenic and sulfur impurities is obtained after magnetic separation; It is widely used for the separation of ores and waste residues containing weakly magnetic iron minerals.
Complete limonite beneficiation equipment:
1. Crusher: jaw crusher, impact crusher, cone crusher, etc.
2. Ball mill: cone ball mill, ceramic ball mill, energy-saving ball mill, high-energy ball mill, high-fine ball mill, etc.
3. Screening and grading equipment: high frequency screen, linear vibrating screen, spiral classifier, etc.
4. Magnetic separator: wet magnetic separator and dry magnetic separator; Strong magnetic field magnetic separator, medium magnetic field magnetic separator and weak magnetic field magnetic separator; Wet permanent magnet drum magnetic separator, etc.
5. Flotation machine: SF flotation machine, XJK series flotation machine, stirring flotation machine, etc.
6. Beneficiation auxiliary equipment: vibrating feeder, trough feeder, mixing bucket, bucket elevator, belt conveyor, pendulum feeder, high-efficiency thickener, disc granulator, disc feeder, ore washer, shaker, spiral chute, etc.
7. Drying and calcining equipment: dryer, rotary kiln, etc.
Limonite beneficiation process is different, and its equipment selection is also different!
Introduction to main limonite beneficiation equipment
1. Ball mill is suitable for grinding various ores and other materials. It is widely used in beneficiation, building materials and chemical industries. It can be divided into dry and wet grinding methods. According to different ore discharge methods, it can be divided into grid type and overflow type. It is the key equipment for crushing materials after they are crushed.
2. The classifier (spiral classifier) is widely used in the concentrator and ball mill to form a closed-circuit circulation process and split process diversion of ore sand,
or in the gravity concentrator to classify ore sand and fine mud, as well as the particle size classification of ore slurry in the metal beneficiation process, as well as the desliming and dehydration in the ore washing operation.
3. The magnetic separator can separate many minerals, such as magnetite, limonite, hematite, manganese siderite, ilmenite, wolframite, manganese ore, manganese carbonate, metallurgical manganese ore, manganese oxide ore, iron sand ore, kaolin, rare earth ore, etc.
4. Jaw crusher is mainly used for medium particle size crushing of various ores and large materials. Jaw crusher (jaw crusher) is widely used in mining, smelting, building materials, highway, railway, water conservancy and chemical industries. The maximum compressive strength of the crushed material is 320MPa.
5. Rotary kiln refers to rotary calcining kiln (commonly known as rotary kiln), which belongs to building materials and equipment. Rotary kiln can be divided into cement kiln, metallurgical and chemical kiln and lime kiln according to different materials. In many production industries such as building materials, metallurgy, chemical industry and environmental protection, rotary rotary kiln is widely used for mechanical, physical or chemical treatment of solid materials. This kind of equipment is called rotary kiln.