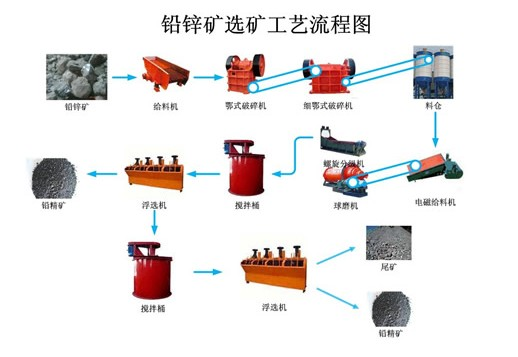 Smelting methods of lead-zinc ore: lead sulfide concentrate is the main mineral raw material for lead smelting, and its smelting methods include pyrometallurgy and hydrometallurgy. At present, fire method is the main method, and wet method is in the stage of experimental research. Pyrometallurgical lead smelting adopts sintering roasting blast furnace smelting, reaction smelting, precipitation smelting and other methods. The refining of lead mainly adopts fire refining, followed by electrolytic refining.
Zinc sulfide concentrate is the main mineral raw material for zinc smelting, including pyrometallurgy and hydrometallurgy. Vertical pot distillation, flat pot distillation or electric furnace are adopted for pyrometallurgical smelting; Zinc hydrometallurgy has developed rapidly in recent 20 years and has become the main method of zinc smelting. The crude zinc obtained by pyrometallurgy is refined by distillation or directly applied; The electrolytic zinc obtained from zinc hydrometallurgy has high quality and does not need refining.
For the Refractory Lead-Zinc Sulfide mixed concentrate, the closed blast furnace smelting method of producing lead and zinc at the same time is generally used. For the mixed lead-zinc
oxide ore which is very difficult to separate, China has a unique treatment method, that is, the raw lead-zinc oxide ore or its enriched products are sintered or pelletized
and melted in the blast furnace to obtain crude lead and molten slag containing lead-zinc.
The slag is further fumigated in the fuming furnace to obtain zinc oxide products, and zinc is obtained by hydrometallurgy to obtain electrolytic zinc. In addition, zinc oxide products can be obtained by direct fuming in rotary kiln.
China's lead and zinc concentrates contain rich associated components, which have been comprehensively recovered in the smelting process, and the economic benefits are very considerable. Copper, sulfur, zinc, gold, silver, platinum group metals, bismuth, thallium, cadmium, selenium, tellurium and other products are comprehensively recovered when smelting lead. Sulfur, lead, copper, gold, silver, indium, gallium, germanium, cadmium, cobalt, thallium, mercury and other products are comprehensively recovered during zinc smelting.
Before the ore washability test, the mineral composition of the deposit should be studied, the ore type should be divided, the occurrence state of elements should be found out, and the mineral type, ore structure and embedded particle size characteristics should be identified, so as to provide a basis for the test of lead-zinc ore dressing equipment and
the formulation of reasonable process flow.
The industrial type of lead-zinc ore is divided into sulfide ore (lead or zinc oxidation rate < 10%),
oxidized ore (lead or zinc oxidation rate > 30%) and mixed ore (lead or zinc oxidation rate 10% ~ 30%). According to the different useful components in the ore, it can be divided into lead ore, zinc ore, lead-zinc ore, lead-zinc copper ore, lead-zinc sulfur ore, lead-zinc copper sulfur ore, lead tin ore, lead antimony ore, zinc copper ore, etc. According to different ore structure, it can be divided into disseminated ore, dense massive ore, breccia ore, banded ore, veinlet disseminated ore, etc.
When the selected metallurgical department needs to separate mining and sorting (metallurgy) according to the ore type, and it can be circled on the geological profile and connected with the adjacent profile, its distribution range shall be circled and the reserves shall be calculated respectively.
For the beneficiation process of lead-zinc ore beneficiation equipment, different beneficiation methods are selected according to different ore types, which requires different lead-zinc ore beneficiation equipment. Sulfide ores are usually flotation. Oxidized ore is processed by flotation or gravity separation combined with flotation, or flotation after sulfurization roasting, or re flotation after gravity separation with sulfuric acid treatment. For lead-zinc ores containing polymetallic,

magnetic flotation, gravity flotation, gravity magnetic flotation and other combined beneficiation methods are generally used.