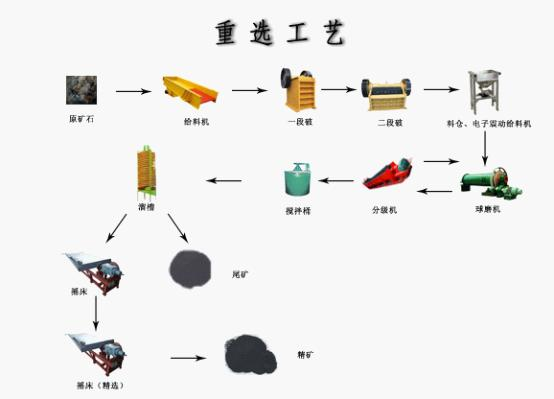 Description of hematite beneficiation equipment:
The main component of hematite is Fe2O3, the single crystal is often rhombohedral and plate-shaped,
and the aggregate forms are diverse. It has metallic luster to semi metallic luster, hardness of 5.5 ~ 6.0 and density of 5.5 ~ 5.3 g · cm-3. The flake hematite aggregate with iron black and metallic luster is called Specularite; The flake hematite aggregate with gray and metallic luster is called mica hematite; Reddish brown, dull luster is called ochre; Hematite in kidney shape is called kidney hematite. Hematite is widely distributed in nature. It is an important raw material for ironmaking and can also be used as red pigment.
China's famous producing areas include Anshan, Liaoning, Jingtieshan, Gansu, Daye, Hubei, Ningxiang, Hunan and Xuanhua, Hebei.
According to the characteristics of hematite in China, some can be enriched by gravity separation after ore washing. This method has low investment and power load. Many small and medium-sized dressing yards have been built since 2005. For refractory ores, magnetization roasting, magnetic separation and flotation are generally used first.
For those with low grade in the original dressing yard, our company can configure concentrate regrinding reverse flotation desilication equipment to improve the grade of iron concentrate to meet the standard. It can provide users with site selection for new users to investigate, design, support and debug production for users.