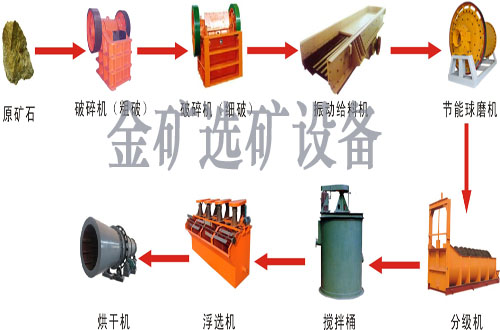 At present, 98 kinds of gold minerals and gold bearing minerals have been found, only 47 are common, and only 10 kinds of minerals are directly used by industry. There are nearly 38 kinds of gold bearing materials in China, and the gold content of gold is generally relatively small.
Gravity separation and flotation are common beneficiation methods in gold mines. Most gold mines in China use the above methods to extract gold, which has been greatly improved in Beneficiation Technology and equipment.
According to the structural state and gold content of gold in minerals, gold deposit minerals can be divided into three categories: gold minerals, gold bearing minerals and gold carrying minerals. The so-called independent mineral of gold refers to the gold produced in the form of gold minerals and gold bearing minerals. It is not only the most important occurrence form of gold in nature, but also the main object of industrial development and utilization.
The supporting equipment of gold ore dressing equipment mainly includes crushing equipment (jaw crusher, hereinafter referred to as Hubei cone crusher, hereinafter referred to as cone crusher), grinding equipment (high-efficiency and energy-saving cone ball mill), classifier, mixing barrel, chute flotation machine, etc. At present, the mainstream gold separation process is generally broken by crusher, then crushed by ball mill, and then extracted from concentrate and tailings through gravity separation and flotation process, and then through chemical method and finally smelting, the product will finally become finished gold.金Ore dressing process flow:
After the first stage crushing, the raw ore enters the double-layer vibrating screen for screening. After re crushing, the upper products are crushed together with the middle products for the second stage crushing. The second stage crushed products are returned and combined, and the first stage crushed products are screened again.
The screened final product is grinded through the first stage ball mill and forms a closed-circuit grinding with the classification mechanism. The classification overflow enters the second stage ball mill after classification by the cyclone, and then forms a closed-circuit grinding with the cyclone.
The overflow of the hydrocyclone is the first priority flotation. The foam products are selected two times and selected three times to become the concentrate products. After tailings flotation, the tailings after preferential flotation are processed by a rough separation, a single selection, two selection, three selection and one sweep. Secondary selection and primary selection constitute closed-circuit separation, and tertiary selection and secondary selection constitute closed-circuit separation.
Crushing and grinding of gold ore dressing equipment:
Jaw crusher is mostly used for coarse crushing, standard cone crusher is used for medium crushing, while short head cone crusher and counter roll crusher are used for fine crushing. Medium and small gold concentrators mostly adopt two-stage and one closed-circuit crushing, and large gold concentrators adopt three-stage and one closed-circuit crushing process. In order to improve the output and equipment utilization coefficient, the concentrator generally follows the principle of more crushing and less grinding to reduce the particle size of grinding stone.
Gravity separation of gold ore dressing equipment:
Gravity beneficiation is a method of separating ore according to mineral density difference. The main equipment used are chute, shaking table, jig and short cone cyclone.
Flotation of gold ore dressing equipment:
80% of China's gold concentrators use flotation to separate gold, and most of the concentrate produced is sent to non-ferrous smelters for treatment. Due to the increasing development of gold extraction by cyanidation and in order to improve economic benefits and reduce concentrate transportation losses, enterprises mostly adopt on-site treatment. Flotation process has developed greatly and occupies a considerable position in gold separation production.
Gold ore dressing process - chemical separation:
At present, the main chemical separation methods are Mercury mixing process and cyanidation process. Mercury mixed gold extraction process is an ancient gold extraction process, which is simple and economical. It is suitable for the recovery of coarse monomer gold, but it has great pollution to the environment. It is gradually replaced by gravity separation, flotation and cyanidation.
Gold ore dressing process - smelting:
Smelting is the last process of extracting gold. Smelting can be divided into roughing and refining. Gold smelting has developed rapidly in China. Most of them use the traditional crucible method to produce high-quality gold, or send them to non-ferrous metal smelters to process and refine finished gold.
Gold ore dressing process heap leaching:
In China's gold resources, the amount of low-grade oxidized ore accounts for a certain proportion. It is not cost-effective to treat this kind of ore by conventional cyanidation process,
but the heap leaching process has economic benefits.